Bradley Dean Marchant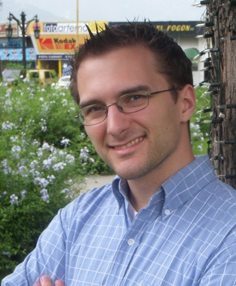 Bradley Dean Marchant
Researcher
Bradley Dean Marchant recently graduated from Brigham Young University with a BA in Family History-Genealogy as a specialist in British and Scandinavian research. He has successfully researched in eight languages, spending many hours using Latin American and Southern European sources. Bradley has completed archival research in England at both the National Archives and several county record offices. He had a research excursion in Venezuela (see photograph) where he interviewed a client's relatives, wandered cemeteries and journeyed to civil registration offices.
Known for his palaeography skills and his love of deciphering foreign languages, Bradley enjoys a difficult challenge when it comes to reading unusual handwriting. Bradley has successfully traced several of his family lines back into the 1650s in the Yorkshire Dales. A proud descendant of the small village of Giggleswick, he maintains an online blog for those researching this area of England. He has assisted dozens of other descendants of this village in locating their own roots, including a few who turned out to be his own cousins. He created one of the first websites to train beginners in researching their Venezuelan roots. Victorian Lancashire cotton-weaving families, life in English workhouses, and the southern tip of Sweden are of personal interest to him as he researches his own family.
Always a student, Bradley is currently teaching himself some basic German and Slovakian research.
Call 1-800-288-0920 to request research services.
Areas of Expertise
Denmark, England, Iceland, Ireland, Latin America, Mexico, Norway, Scotland, Sweden, Venezuela, Wales