Call Today for FREE Consultation
800.288.0920
Whenever I look at an English problem I usually think of marriage indexes. Most counties have their marriages indexed at least 1800-1837 and some 1538-1837. To make certain, I went to the Family History Library in Salt Lake and checked on the CD databases availalbe. There is a great collection that is easy to use. For a brief review:
Berkshire has a probate index and many Christenings, marriage and burial indexes (CMB)
Cambridge has Christenings, marriages and burials, poor law index and many other records.
Cheshire marriage indexes 1754-1837 and many misc. records
Cornwall has many records. Cornwall is also available at parish clerks on line (http://www.cornwall-opc.org/) and their Christening, marriage and burials are indexed on the Cornwall FHS web site.
Derbyshire has many miscellaneous CDs. Their marriages are 100% indexed on line (http://www.derbysmarriages1538-1837.co.uk/)
Devon has criminal records, Christening, marriage and burial indexes by deanery – many parishes; land tax, Plymouth records, etc.
Essex has many monumental inscriptions
Gloucester has Bristol Christening and marriages
Gloucestershire Marriage index 1800-1837; christenings 1813-1837; non comformist index
Gloucestershire burial index
Hampshire has monumental inscriptions
Wills 1483-1653
Christenings 1660-1841
Burials 1400-1837
Marriages 1538-1837 100% coverage
Herefordshire marriage index 1837-1957
Monumental inscriptions index
Huntingdonshire many par reg,
Burial index 1538-1837
Marriage index 1538-1837 I think 100% coverage
Kent has many parish registers
Lancashire has many parish registers. Of course the parish clerks-on-line is fantastic for Lancashire (http://www.lan-opc.org.uk/) and Familysearch.org has over 1 million names
Leicestershire has a marriage index complete 1754-1852 and another 1800-1837
Leicestershire and Rutland burial indexes perhaps complete
Lincoln probate index 1700-1910
Marriage bond and allegation index
Settlement certs index
Burials 1813-1900
Marriage index 1700-1837
Apprenticeship 1711-1810
Military 1795-1845
Non-conformist index
London Probate Index – looks like it is possibly complete.
Many military records
Norfolk Norwich burials
Norwich marriages
Northampton bap 1700-1750 indexed 1650-1700 indexed 1813-43 indexed
Burials 1700-1812
Burial index 1700-1812
Marriage index 1700-1860
Marriage pre-1700 partial index
Nottingham marriage index
Oxford parish register transcripts
Rutland marriage index
Shropshire marriage index
Staffordshire onumental inscriptions
Marriage index, burial and christenings are easily ordered on line (http://www.bmsgh.org/search/sea1.html)
Suffolk burial index
Marriage index 1813-1837
Marriage index by deanery
Surrey burial index
Marriage index to 1837
Sussex poor law indexes
Monumental inscriptions
Wiltshire mar index
Non-conformist index
Land tax
Wills beneficiary index 1800-1858
Yorkshire
Burial index 1813-37
Burial index by deanery
Monumental inscriptions
Many parish registers
West riding burials 1780-1837
It may be odd to picture a six year-old carefully filling out his pedigree chart, but perhaps that's what drove Richard W. Price, Sr. to pursue genealogy as a full-time profession. That, and the fact that his father was passionate about genealogy and practiced it as a hobby throughout his life.
At 12, Richard began collecting his own genealogies. Taught by his grandfather to search the records of the Mesa, Arizona genealogical library, Richard soon began making fascinating connections and associations within his own family. For instance, on one trip to the library, he discovered that both of his parents were descendants of the Reverend John Lathrop, an early New England cleric.
Continuing his fascination in family history as a hobby throughout his childhood and high school years in Arizona, it was a trip to Boston with his parents at age 16 that helped cement his passion for genealogy. For two weeks, Richard studied at the New England Historic and Genealogical Society. When he entered college at Brigham Young University (BYU), it was only natural that one of his selected courses was genealogy.
Advised by a professor not to make family history his primary collegiate study (because there was no money in the business), Richard pursued an undergraduate degree in psychology. Despite his training in psychology, Richard continued his genealogical pursuits as a hobby, visiting England and Wales in his early twenties for two weeks in order to explore record offices and genealogical societies and studying cemeteries. In 1976 he visited the Institute of Family Research (IFR) in Salt Lake City in order to find out more about one of his family lines. During his visit, Phil McMullin, president of IFR, offered Richard a job. Since he needed a summer job anyway, he began his first paid job in genealogy.
Richard worked for IFR for six years, with Dean McLeod his trainer and mentor. While there, he earned accreditation in English research and even served as president of the Utah Genealogical Association, Professional Chapter. In 1979 he and several friends began meeting several hours a week to establish a professional genealogical organization, later named the Association of Professional Genealogists (APG). Richard served both as vice president and president of APG, which has grown to more than 2,400 members.
Richard started Price & Associates, Inc. his own genealogy company, in 1982. With a wife and young family at home, he earned an M.A. in Family and Community History at BYU in 1984, with a master's thesis titled Child-Naming Patterns in the English Villages, 1558-1740: Whickham, Durham; Bottesford, Leicester; and Hartland, Devon.
His genealogy business has taken Richard on research trips all over the world, including England, Scotland, Wales, Germany, Canada and many areas in the United States. This research has helped him fill in some of the gaps to records available in the Family History Library in Salt Lake City. Richard has become skilled and versed in searching the records and manuscripts in local churches and archives throughout Europe.
Remembering some of these trips, Richard said: "How can one express the feelings, the chills that descend on you when you're visiting an ancestral home? When I first visited Ludlow, Shropshire, where my Price ancestors originated, a still, sacred reverence fell upon me. I walked the same roads, churches, markets and shops that my forefathers sojourned. This was holy ground to me."
Of course, those trips were also not without a bit of characteristic mirth. On one occasion, while jogging through the cobblestone streets of Lincoln, England, Richard fell and broke his leg. He had six weeks left on his research trip and was told he could not bend his leg for two months. While driving a stick shift on the "wrong" side of the road through the English countryside, Richard somehow found a way to go about his work.
Another time, Richard stayed at a large bed and breakfast with traditional shared bathrooms. Always an early riser, Richard went into the bathroom at 5 a.m. with a towel wrapped around his waist to get ready for the day. After his shower he returned to his room to find it locked, with the wrong key in his hand. Having no other choice, he walked down five flights of stairs and sat in the lounge wearing nothing but a towel until the owner awoke – but not before a non-English speaking foreigner came upon the odd site in the lounge. With no way to explain himself, Richard simply let the foreigner get a great laugh out of the obvious predicament.
Today, Richard continues in his quest to help clients trace their lineage and understand their ancestors and their lives. Married to Nancy Knudsen Price since 1976, the couple has raised five children together in Utah. To Richard, ancestral or immediate, family really is everything.
LIFE WITH HERMAN – HIS ANCESTORS
How to find the Ancestral Village
For many years the Herman's German village of origin was unknown. His father, Joseph's military record was consistent in stating he was from Koln, Germany. A search for records of Joseph's birth in Koln produced nothing. It appeared that saying he was from Koln was like someone saying they were from Dallas, when in actuality the town was in the general vicinity.
However, this quest all ended one day while working on another project in the same county in which Joseph Steinbeigle married Elizabeth Wallwork; Bibb County, Alabama. The marriage records were examined and while searching, a female appeared with the name of Francis Steinbuchel. Immediately, I was at full attention because this was the original spelling of our family name and Francis was the name of Joseph's mother. I knew she had to be related so set out in earnest to learn everything I could about Francis Steinbuchel who married John Funken 31 December 1893 in Bibb County, Alabama. I tracked the family to Illinois; the same county where the Steinbeigle's eventually settled, but Francis disappeared. I searched and searched for her and finally decided to get some sleep since it was, at that time, the wee hours of the morning. As I laid my head down, the thought came, "she went back to Germany." I sat up bolt right, ran to the computer and began looking at passenger lists. Yes, she did, indeed, go back to Germany with all of her children and returned shortly after. The advantage of finding an ancestor on a ship passenger list in the 1900s is that the last place of residence is named as well as the place of birth. The entry for Francis included all of this information! She was born in Borbeck, Rhineland. Unfortunately, the Family History Library did not have microfilm for this village so a letter was written to the local record holder in Borbeck for a search of the birth and marriage records of Herman's grandparents, Conrad Steinbuchel and Francisca Koch. Within a month, precious birth and marriage records were received into my hands. The village of origin of the Steinbuchel family had finally been found!
The genealogical research message from this is: ALWAYS check the records in which your ancestor is found for similar surnames. When I originally found the marriage record for Joseph Steinbeigle and Elizabeth Wallwork in Bibb County, Alabama, it was years and years ago before I knew much about genealogical research. I did not check for possible relatives in the area. As it turned out, this "possible" relative was a sister to Joseph and she led us to the home village in Germany.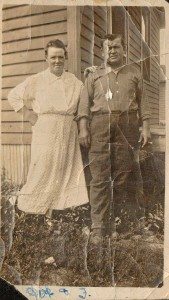 Herman was born 17 June 1906 in Christopher, Franklin County, Illinois to Joseph Steinbuchel (Steinbeigle) and Elizabeth Ann Wallwork. Both parents were immigrants with Joseph arriving from Germany around 1883 as a young boy of about five, and Elizabeth "Lizzie" arriving 6 June 1887, about 9 years old, on the ship Alaska. Elizabeth came with her mother, Jane, brothers Joseph and George and sister, Victoria. Their father, Joseph Wallwork, came a month later in July.
Joseph Steinbuchel/Steinbeigle enlisted in the army during the time of the Spanish American War and served for a short time; long enough to receive a pension later in life when he was shot in the arm at the facility he owned in southern Illinois. Since Herman's father, Joseph, mustered in and out in Alabama, it is presumed this is where he met Elizabeth Wallwork, whose family was also living in Alabama at the time. Both Elizabeth's father and Joseph Steinbeigle were miners so may have had this connection. Joseph and Elizabeth married 26 May 1900 in Blocton, Bibb County, Alabama and were there for a few years before moving to Murray, Alameda County, California, where Joseph's parents, Conrad and Francisca had been living.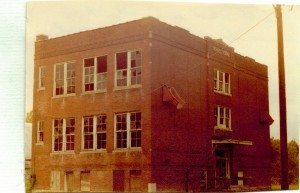 By 1920 the family was located in Franklin County, Illinois and this is the area Grandpa Herman remembered most.He attended school in Christopher with his brother Francis (Uncle Doby) and sister, Vivian.
At least eight children were born to Joseph and Elizabeth Steinbeigle, but only three lived to adulthood.
Conrad LeeRoy was the eldest born 4 February 1901 and died about 18 months later.
Lillian May was next, born 6 May 1903 and died 27 December 1911. Two sweet pictures of her and Herman has been preserved through the years.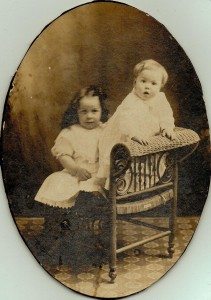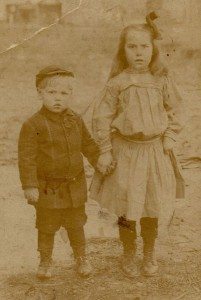 Lillian and Herman Steinbeigle
Herman was the third child, followed by Francis Jorelin, born 23 December 1908. Francis became affectionately known as Uncle Doby to his great nieces and nephews and was a cheerful man like his brother.
Victoria Helan was born 12 May 1911 and died at the age of six.
The third child who lived to adulthood was Vivian Jane, who was born 15 November 1914 and eventually married George Voelz. This couple were very influential in the life of my father, Ray. Ray writes about George:
"It was his garage where we lived. He wrestled with me, played with me, introduced me to the Lutheran Church, and saw to my religious training."
The last two children were Elizabeth, born 4 December 1916 who died about the age of four, and Sadie Rosalie who was born 8 Jan 1919 and died before 1921.
Not too much is known about Joseph Steinbeigle since he died at the fairly young age of fifty-four. However, Elizabeth lived with Herman and his family, so more of her personality is learned through stories Grandma Nettie told as well as those told by Elizabeth's grandson, Ray.
According to Grandma Nettie, Elizabeth had a bit of a temper, swore like a sailor, and was known to have chased Grandma Nettie with a chair. But, her grandchildren could do no wrong and she would do anything for them. Like the day her grandson, Ray, wanted his toy cork gun which was on the third floor of the house and he was on the ground floor. Ray tells the story:
"After several minutes of strenuous yelling, Grandmother Steinbeigle answered my call. I asked her to lower the gun in my Easter basket. Good old Grandma was always a willing accomplice. The gun did not fit the basket too well. AS she was lowering the basket, gravity took over, the basket tipped and the gun toppled out. As the gun plummeted in my direction, grandma yelled for me to move…I sheepishly grinned at the two ambulance attendants. Six stitches later I was on the road to recovery." Ray continued the story by telling about how Grandma Steinbeigle ran down the stairs and was furious at the gun for hurting her grandson.
Elizabeth died in 1954 at the age of 76.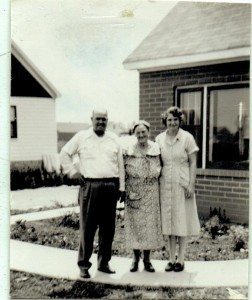 Herman, Elizabeth and Nettie Steinbeigle
LIFE WITH HERMAN – Strength of Character
By his granddaughter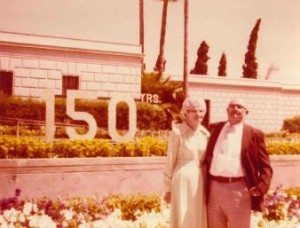 Grandpa Herman was a "character" as Grandma so humorously portrayed. He worked hard, loved his family and had a fun disposition. One thing not mentioned was that Grandpa struggled with alcoholism. Many of the difficulties experienced in the family were due to this addiction. But, here is where we see the true character of this great man.
My father was Grandpa Herman's oldest child and was the first child in the family to marry. Therefore, their first child was Grandpa Herman's first grandchild; that would be me. The story has been told often of how when I was born, my father warned Grandpa that he would not be able to be around me if he did not do something about his alcoholism. Grandpa loved family more than he loved alcohol and so he made a decision to let himself be admitted to Manteno hospital in Chicago to "dry out" and get the needed help. Then he joined AA (Alcoholics Anonymous) and stayed close to this group for the rest of his life.
Anyone who has struggled with or been around family members with addictions will know how much strength this took. It is like crossing an ocean with a small boat and one oar. Yet, he did it! He never touched alcohol again for the rest of his life.
His example is prominent in my mind when I feel something is too hard. Too hard? Anything I have to deal with pales in comparison. Knowing that this kind of strength is in my genes; my DNA; gives me courage to keep going and trying when faced with my own oceans or mountains. If Grandpa conquered his nemesis, so can I.