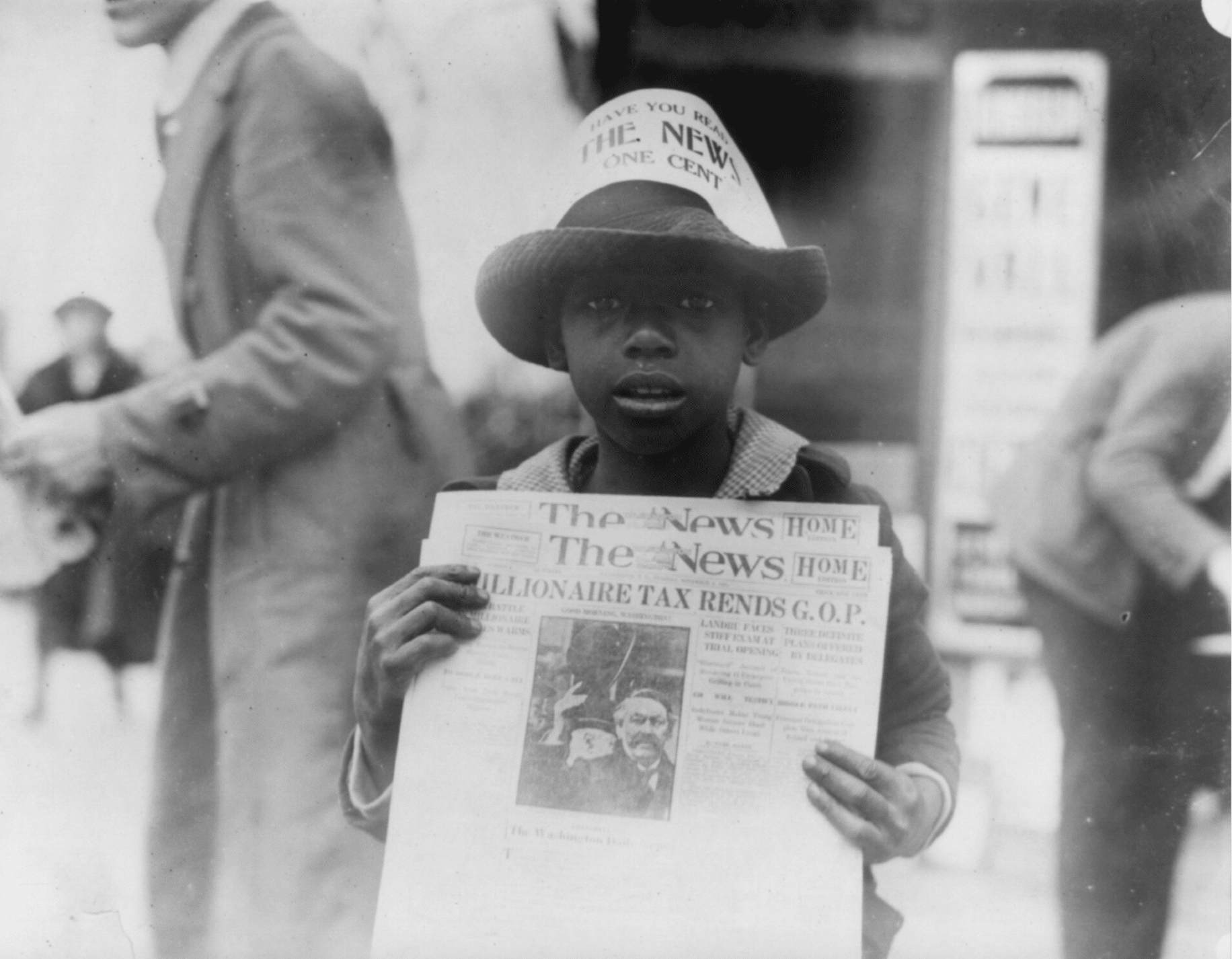 Newspapers are often an unexplored resource in genealogical research, particularly amongst African American researchers who may believe that their ancestors were largely ignored in newspapers. In actuality, newspapers can in fact provide important details about African American ancestors. Especially when considering how scarce record types can be for African American research, newspaper sources can provide crucial documentation that otherwise might not be available.
 Runaway Slave Ads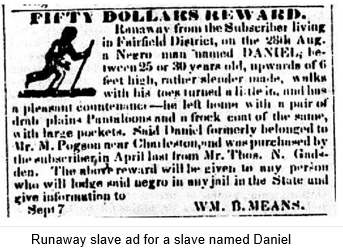 From the colonial era until the formal end of slavery in 1865, it was common for slaveholders to post advertisements in local newspapers, offering a reward for the return of their runaway slaves. These advertisements are often rife with details about the runaway slave. In runaway slave ads, researchers might find details about the slave's name, age, and a physical description of the slave. Furthermore, details may be included about the slave's family members and relationships: an advertisement might say that a woman ran away with her daughter, or that a man ran away and is most likely headed to another plantation where his wife and children are. Runaway slave ads also provide the name of the owner and the owner's farm or plantation.
The content of these runaway slave ads can provide a goldmine to researchers. Documentation for African Americans during enslavement is particularly scarce, so these newspapers can prove vital in determining birthdates and family relationships for enslaved ancestors. Furthermore, the physical descriptions that are typically included provide an interesting insight into the ancestor, insights that might otherwise be lost. Finally, information provided in slave runaway ads can point researchers in the right direction for other sorts of documentation, such as estate papers, inventories, and wills relating to their owner and the plantation that they were on.
The online database Freedom On the Move is an ongoing project that seeks to digitize and index North American runaway slave ads. Researchers can use their searchable database to find mention of their ancestors in runaway slave ads. Freedom On the Move relies on volunteers to index the newspaper advertisements, and any contributions to their ongoing project is greatly appreciated. The searchable database and indexing opportunities are accessible on their website.
Missing Family Member Ads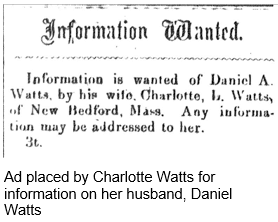 Perhaps one of the most tragic effects of slavery in the United States was the separation of slave families through trade and sale. After emancipation, thousands of former slaves tried to find their missing family members by placing ads in newspapers. These ads often contained details about the individual posting the ad, who they were searching for, and where and when they last saw their loved ones. In some cases, ads included a sketch of the individual's life, providing details about who they were owned by and where they lived.
These ads can be very useful in breaking down the "1870 barrier," created by the exclusion of enslaved individuals and families in pre-1870 censuses. "Last seen ads" may contain details about pre-1870 family relationships, thus proving helpful (and even crucial) in constructing family groups for enslaved ancestors.
"Last seen ads" can be accessed through the online database Information Wanted. This ongoing project seeks to digitize and index all available "last seen ads." Their database (though still a work in progress) can be searched from their website. This database also relies on volunteer contributions for their digitized collection to be indexed. You can contribute to indexing through their website.
 African American Newspapers
African American newspapers came into existence before the
Civil War as a medium of expression of Abolitionist sentiment. These early African American newspapers informed readers of events affecting the African American community. After the war, virtually every city in the United States with a large African American population had its own African American newspaper.
Researchers might find mention of their African American ancestor in African American newspapers. These news stories can provide interesting details and insight into an ancestor's life. African American newspapers should be searched for on the city level. Helpful databases for accessing these newspapers include Ancestry.com and Newspapers.com.
Other resources that might prove helpful in locating African American newspapers include:
Henritze, Barbara K. Bibliographic Checklist of African American Newspapers. Baltimore, Md.: Genealogical Publishing Company, 1995. FHL Book 973 F23hb.
Pinnick, Timothy N. Finding and Using African American Newspapers. The Gregath Publishing Company, 2008. ISBN: 978-0-944619-85-8.
Cambell, Georgetta Merritt. Extant Collection of Early Black Newspapers: A Research Guide to the Black Press, 1880-1915, with an index to the Boston Guardian, 1902-1904
A Register and History of Negro Newspapers in the United States, 1827-1950. – 1950. – 431 p. Thesis (Ph. D.) – Northwestern University. Abstracted in Dissertation Abstracts International, Vol. 34A (Jan. 1974); p. 4183-4184 (62-6508).
General Newspapers
Local (non-African American) newspapers can also provide details about African American ancestors, fleshing out some of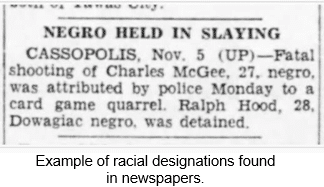 the details of their lives. Notices for births, marriages, and deaths can serve as vital records substitutes, especially in the Southern states where civil registration didn't start until well into the twentieth century. Obituaries, in particular, can provide insight into what church that African American ancestors attended, therefore pointing researchers in the direction for church records. Particularly in the twentieth century,              newspapers often included indicators of race when writing about African Americans, using such terms as "negro" or "black." These racial indicators can help researchers to verify that they are researching your correct African American ancestors. Newspapers may include highlighted stories about ancestors, which can provide interesting insights. 
The experienced researchers at Price Genealogy can assist you in your search for your African American ancestors.
by Kaitlyn